The Shale Gas Arguments Map provides a clear overview of arguments for and against, leaving the weighing and the final decision of the arguments to the users of the map. With the map they can form a balanced opinion.
The Debate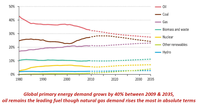 Fig. 1: Shares of energy sources in world primary energy demand in the International Energy Agency´s (IEA) New Policies Scenario (IEA, World Energy Outlook, 2011)
Replacing fossil energy resources with renewable energies is not only the goal of nations worldwide but also of the European Union. But a quick switch to mainly renewable-based energy production (Greenpeace, 2012; WWF, 2011) is difficult to accomplish: major energy projections conclude that a diverse energy mix including fossil fuels will remain in force for the foreseeable future (IEA, World Energy Outlook, 2014; U.S. EIA International Energy Outlook, 2014; IEA Special Report, 2012).
Due to its low carbon footprint compared with other fossil fuels, and its flexible availability, natural gas is widely regarded as the most important bridge to future renewable energy. Natural gas ressources from shales seem to be huge, but the extraction process, including hydraulic fracturing, has caused a debate whether production may be ecologically acceptable or not. Read more about the potential benefits and risks related to shale gas.
National developments and positions

Shale gas in the Netherlands, May 2012, (updated July 2015) by Yvonne Schavemaker, Netherlands Organization for Applied Scientific Research TNO
Statements and Positions
Public perception, from a scientific perspective